2017: In Review
So, 2017 then.  We're nearly at the end now, and by tradition photographers have to list their twelve favourite photos of the year.  This year I have decided to join in, and have selected a favourite from each month.
2017 was for me a year of great highs, and crashing lows.  It was the year I got £2.2 million from the board of my company to fund a project, and the year I lost the same amount when the project was cancelled six months later.  It's the year I threw in the towel on a job I've been in for 21 years – next year I start at a new company.  It was also the year I started doing photography competitions in earnest, and the year I achieved my first medals in international salons.
January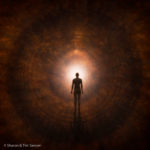 I started January with two trips down to our head office in London, where we (my boss and I) negotiated for and got approval for a couple of million quid to rewrite the main piece of software we have at work.  This was the culmination of many months investigation, planning and training during 2016 and it set us up for an excellent year.
On the photography front, I started with some international photography competitions (known as salons) in late 2016.  I entered two in the Czech Republic and one in Yorkshire, and I had just four images accepted.  I even managed to get one award in my second ever salon.  The target that I had for 2017 was to get enough acceptances that I could apply for AFIAP letters after my name.  In order to achieve this I needed to get 40 acceptances, in eight different countries, with at least fifteen different images and four of the images must be accepted as prints.  I also had to do a minimum of fifteen different competitions.
I entered a couple of salons during January – one in India and another in Belgium.  I managed to get images into both bringing my total to eight acceptances.
The featured image for the month here is "A World Beyond" – a composite image which takes a Gormley figure from the beach at Crosby and adds it to a view down an Ikea tumbler.  Atmosphere was also added!
February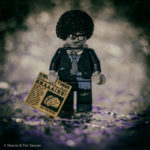 I invested in a Sigma 150-600mm lens this month, and joined the array of long lenses at our local nature reserve.  It's an intimidating world to get into!
Just one salon entered this month, in Bristol, where I achieved two acceptances from eight images entered.
I'd started buying interesting lego figures for photography purposes – this month's image was of a Lego Zombie.  I changed the hair to make it more interesting, and made the background out of scrunched up foil.
March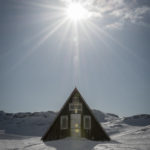 We had a great holiday in March, out to Iceland.  I'd never been before – Sharon had at least done a day trip.  We travelled on a photography tour with Wild Photography Holidays and had an awesome time.  We saw the aurora on the first night (during a snow storm!) then never managed to see it again.  A highlight has to be the ice cave – the shapes we saw were amazing.
I went a bit mad with salons in March, entering five.  These were in Montenegro, New Zealand, USA and two in India.  I mostly did well, but struck out of one of the India ones with no acceptances at all – the first time I'd failed!  In total I got eighteen acceptances in February, bringing my total to 28.
This month's image was taken the day after our Aurora display, where we drove across the Snaefellsjokull peninsula in fresh snowfall.
April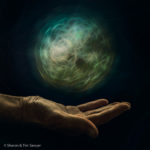 April saw us give our first presentation at the camera club – a half evening where Sharon and I talked through our photographic journey alongside our holiday journeys.  We featured images from Australia, New Zealand, Malta and some very hastily put together Iceland stuff.
At work, after our initial elation at getting the funding for the project, we still hadn't created anything tangible.  This all changed in April, but in a backward sort of way.  It was announced that the extra resourcing to help us (two existing staff members) wouldn't be available for another three months so the project was delayed.  I, however, was allowed to proceed so I started building a "Walking Skeleton" – the bare bones of a solution that we could then hang further functionality off the future.
In April I entered two "Circuits".  These are groups of salons where the same images are judged multiple times.  I did well in the first of these, where I submitted prints to the Great Britain Small Prints Circuit, and badly in the second (digital) one in Italy.  I also got my first salon medals this month – a FIAP Gold Medal in the Carlisle section of the GB Small Prints, and a Bronze Medal in Sydney Harbour.
In the GB Small Prints, I got 21 acceptances, from 11 different images.  This smashed my AFIAP requirement for just four print images and nearly gave me enough for the next level where I needed just twelve.  April's haul of acceptances was 34, bringing my total to 62 from ten countries.  Most of my requirements were now met, but I decided to press on and see what I could achieve.  If I could get enough acceptances for the next level, EFIAP, I would have much less pressure on the following year.  I couldn't apply for EFIAP until I had AFIAP for a year, but there was no harm in seeing how far I could go.
The image this month is inspired by reading various fantasy books where the protagonist can do magic.  I thought I'd have a go!
May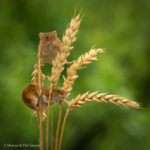 May saw our camera club exhibition open up at a local museum.  This was our first exhibition and both Sharon and I were proud to see our prints up on the wall.  This was all eclipsed in the middle of the month when the YPU Individual Exhibition opened.  This had been judged but the results weren't published until the day of the opening.  We knew that I'd been invited to attend the prize-giving ceremony but we had no idea what kind of prize it was.  We therefore travelled to the event not knowing how well the club had done overall, and what we'd won.
We arrived to find out that our camera club had won the competition overall, with the most prints and digital images accepted.  I won trophies in both the digital and print categories and I was presented with the engraved trophies on stage at Huddersfield Town Hall.  This was an interesting event for me – I'd played on that stage with brass bands on multiple occasions, but this was the only time I'd been there to collect something that was down to me rather than a band.
The YPU Individual competition didn't count towards my FIAP numbers, but it was a great validation of my images and people seemed to like what I was producing.  On the FIAP trail, I had further success in England, Montenegro, Turkey and Serbia adding 35 more acceptances to my total.
This month's image was taken at a farm in the middle of nowhere in Devon ("Bring your own lunch, it's a fifteen minute drive to the nearest shop").  This is the West Country Wildlife Photography Centre which was on a farm that bred water voles for release.  They also had other animals and purpose built sets for photographing them.  Recommended!
June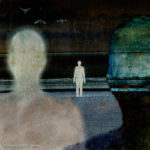 Just two salons in June, one in Cyprus and the other in Kyrgyzstan.(!)  I entered 11 pictures in Cyprus, and had five accepted picking up a silver medal for one image.  This completed the set – one each of gold, silver and bronze medals in 2017! Kyrgyzstan was less prolific, with just one image being accepted, but this did at least count as another country.
I decided to enter the SRGB Print Celebration this year.  It's run by Dianne Owen who has had a large influence on my art.  As this was the first time I entered, I thought I would attempt to compete for the top score award which involved submitting a full 20 images – four each in five sections.  This made for a busy weekend where I was creating new works to submit.
This month's selected image was one such image.  I was messing around with the texture of a mug I'd just bought, and some old photos of the statues on Crosby beach – and this was the result.  I really like it, but it's never managed to get accepted in a salon – just a little weird I guess!
As an added bonus, one of my awarded images from the Yorkshire Photographic Union Exhibition was put up on a six foot tall banner outside the art gallery in Huddersfield.  I even got to keep the banner when it came down, but I'm not sure where I'm going to put it!
July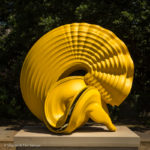 On 5th July, my career came skidding to a halt with the cancellation of my project at work.  I'd spent a year and a half on this, handing over all my other duties so that I could concentrate on the new project.  Our parent company bought our main competitor, announced they were merging the two businesses and that their product was going to lead the new business.  It was an excellent move from a business perspective, but a confusing one for those of us working on the ground as no strategy was announced for the combined business.
Just the one FIAP salon this month – South Devon – with four acceptances.  The more important result was the SRGB Print Celebration where I also got four acceptances, but with a ribbon for one print and a gold award for another.  An awesome result!
This month's image is Outspan, a sculpture at the Yorkshire Sculpture Park.  I loved the way the light played on the shape.
August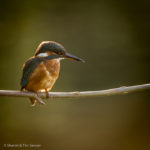 In August our 150-600mm lens came into its own to photograph the Kingfisher at our local nature reserve.  I never seemed to wait long to see it – it often arrived after sitting in the hide for only ten or fifteen minutes.  Very accommodating.
Things were light on the acceptances this month, with just five from salons in Romania, Bangladesh and Wales.
We did, however, have a great time at Otley Zombie Apocalypse.  (More images can be found at sawyer.photo) We've done this for a few years now, and people are getting to know us and our style.  They're not as scary when you see them being made up!
September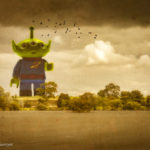 A good month on the acceptances front this month, with nine from two salons – one in Serbia the other in the Czech Republic.  We also travelled to Southport for the prize presentation ceremony for the SRGB Print Celebration.  My gold award was a lovely glass pyramid – much more interesting than a medal!  We got to see the full exhibition of accepted prints from the competition, which were in a shopping centre.
This month's selected image was a result of me messing about with scale.  I took the Lego figure and superimposed it onto a photo of Yeadon Tarn – the figure is stood on the airport runway.  Birds always help with an image like this one!
October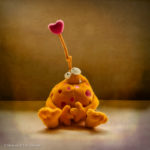 All sorts of salons were entered this month, covering England, Montenegro, Ukraine and Belgium.  Good results too, with a total of sixteen acceptances.
We also met up with the Otley Zombies again, this time at Ilkley Scare Trail.  This was a true photographic challenge – it's winter, in the woods, in the pitch black and in the mud.  Our infrared camera, in conjunction with an infrared torch, came into its own to get some sharp shots whilst the normal camera was used for more long exposure and art.  ISOs were often insane, and I even used flash which is very unlike me.
This months favourite image was of a "not so scary monster".
November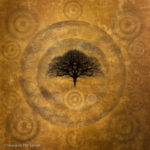 November was a good month for acceptances with results from a French circuit bringing in seventeen acceptances.  There was also success in Hungary, England (at Smethwick), Montenegro and Serbia.
We bought a bunch of flowers specifically to photograph it this month.  This, combined with some vases we'd been collecting this year, led to some interesting images.  I was also experimenting with shapes and creating brushes – this month's selected image was based around a reflected tree, circles, and a concentric circles brush.
December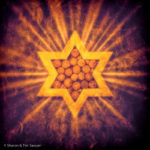 The sensation of my brain dribbling out of my ears at work had led to my interviewing for new positions and this month it all came together with a job offer.  I therefore resigned and will start a new job in early 2018.
I had great fun this month creating art based around Christmas decorations – here's one as my favourite image for December.
The Yorkshire Salon was one of the first salons I entered, back in December 2016.  I entered again this year and was rewarded with five acceptances.  I was, however, beaten this year by Sharon, who managed to bag a Silver Medal in only her third FIAP salon.  I like how we can both push each other to do well.
With three salons yet to report results at the time of writing, I have reached most of the criteria for EFIAP, needing just 40 more acceptances and seven new images.  I have most of 2018 to achieve this, assuming my expected AFIAP is awarded.  EFIAP requires that two of your images have received awards in salons – I have managed to receive eighteen different awards, from ten different images in my salon career so far – I'm surprised and humbled that my work has done so well.